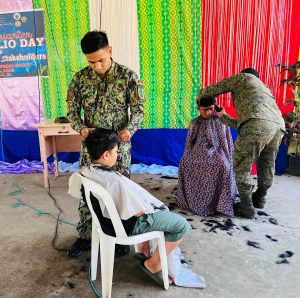 CALBAYOG CITY– The First Samar Provincial Mobile Force Company (1st SPMFC) of the Philippine National Police joined the medical and dental mission initiated by SIRAK Kabataan, a youth organization with focused humanitarian missions in Samar province on Saturday (May 6) in Barangay Gadgaran, 3.5 kms away from the city proper.
There were 200 residents of said barangay who were able to avail of various services which included circumcision, ophthal, pedia, and adult check-ups, blood-pressure reading, and free medical consultation.
Vitamin supplements, painkillers, antibiotics, and cough and colds medicines were likewise dispensed after the consultation.
Meanwhile, a symposium pertaining to anti-illegal drugs and anti-terrorism campaign was conducted by the personnel of the 1st SMPFC to reinforce the youth against illegal drugs and to enlighten them about the deceptive recruitment orchestrated by the communist group.
Showcasing his skills in doing haircuts, Police Major Marval Diaz, the officer-in-charge of the 1st SPMFC, offered a free haircut to some children during the occasion.
Police Major Diaz said that 1st SPMFC is strengthening its community relations by working with its stakeholders in the delivery of services and programs that are beneficial to the populace while heightening its security operations in its area of responsibility.
"Our unit maximizes the functionality of our personnel through the application of our knowledge, experience, and field of expertise in consonance with our organization's mandate to serve and protect our people. We assure the public that we will be working hand in hand with our comrades in the government force especially here in Calbayog City and its neighboring municipalities and cities," he said.
The said endeavor was spearheaded by Jessa Mae Jumaday, SIRAK Kabataan provincial coordinator, and was jointly participated by Captain Ranil Pigon of the 43rd Infantry Battalion, and Police Captain Avelyn Pingitin of the 12th Special Battalion, Special Action Force.
(LEVIRIZA ATIS GETIGAN)