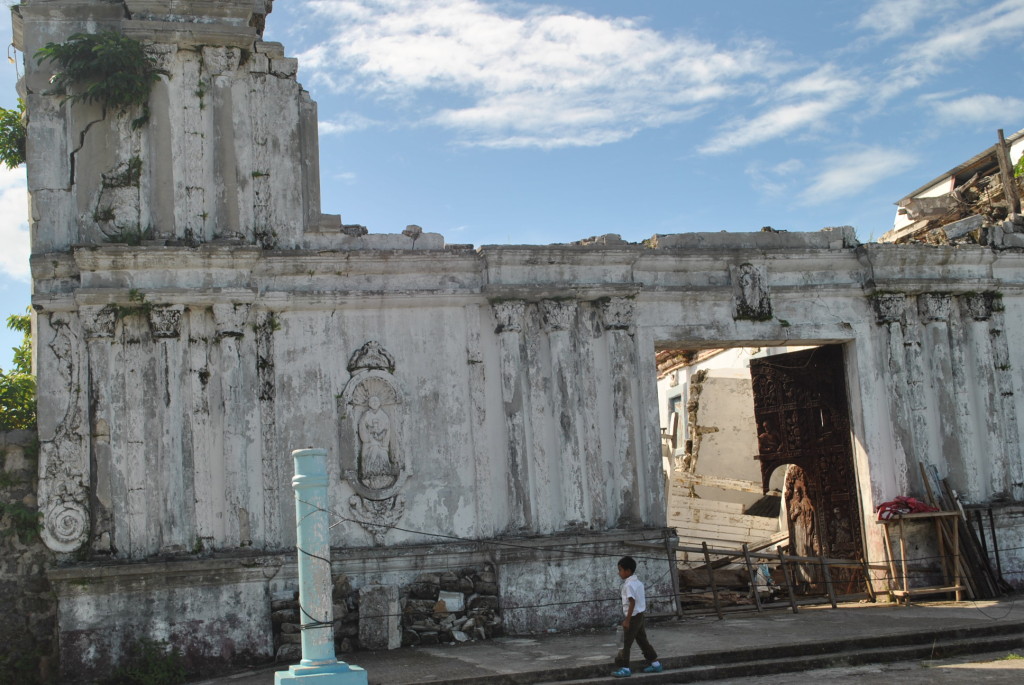 GUIUAN, Eastern Samar – Through the efforts of the parish ministry, a new church is soon to be constructed this town ravaged by supertyphoon Yolanda. Msgr. Lope Robredillo, parish priest, is determined to build a church since the town's 16th century Immaculate Conception Church were badly ruined by the super typhoon Yolanda (Haiyan).
Robredillo personally sketched the construction plan for the new church that will be called Church of the Most Holy Rosary. The cost of the construction of the new church was placed at P25 million of which P6 million is already available. "The new church will be much bigger and longer than the church in Sulangan (one of the villages in Guiuan)," Robredillo said. He shared that it will be 40 meters in width and 35 meters in length. This will be built on the lot of the former Guimbaolibot Memorial School, located across the old church. "I'm planning to build the church in October for as long as the weather allows us," Robredillo said. Robredillo plans to build the church right after the town fiesta which is on the first Sunday of October.
However, he has to wait for the release of funding from Europe and from an agency in the Philippines. "I am just waiting for the funding from Europe and another agency here, but it is sure that they'll donate," Robredillo assured. Meanwhile, the restoration of the 16th century church is no longer handled by the National Commission for Culture and the Arts as the National Museum of the Philippines took over the responsibility of its restoration since it is considered a national treasure. "We already signed a contract on January and we started clearing operations on June for two weeks. Another batch will be coming to continue their work probably on September or October,"Robredillo said.
Since January, people in Guiuan attend masses on a temporary structure built in front of the convent since. The temporary place for worship cost P400,000 from the donations of the town folks and other friends abroad. Likewise, the convent was badly damaged and is now under renovation amounting nearly P2 million. "The people of Guiuan should not worry that the church was destroyed. What is important is their unwavering faith because the church is the people," Robredillo stressed. The parish priest refused to convert the old church into an evacuation center during the super typhoon since it was also damaged during the earthquake on August 2012. (REINALORE P.GUIMBAOLIBOT, LNU Intern)