Amid report of vote buying, selling incidents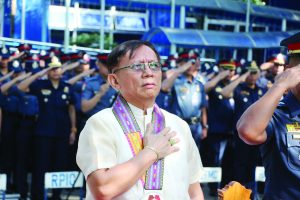 TACLOBAN CITY-The Commission on Elections (Comelec) in Eastern Visayas said that it is ready for next Monday's barangay and Sangguniang Kabataan (SK) elections amid reports of vote buying and vote selling incidents.
Lawyer Felicisimo Embalsado, the officer-in-charge of the Comelec-8, said that all election paraphernalia like official ballots and ballot boxes have already been distributed to all provincial, municipal, and city treasurers' offices for distribution to all the polling precincts across the region a day before or on election day.
"We are prepared for the barangay and Sangguniang Kabataan elections. All those who will be serving as members of the electoral board are also ready with all the election paraphernalias have been delivered to all provincial, municipal, and city treasurer's offices," he said during the media conference 'Kapihan ha PIA" held on Thursday (Oct. 6).
It was learned from Embalsado that over 35,000 teachers from the region will serve for the October 30 village elections.
For the Monday's elections, 8,915 individuals are running for barangay chairman and 64,246 for councilors while 8,456 are in the running for the SK chairman and 46,364 for SK councilors.
The region has 4,365 barangays and 3,808 polling precincts with more than 4.54 million registered voters to cast votes- 3.26 million for barangay posts and 1.27 million for SK positions.
Meantime, Embalsado issued a warning to both candidates and voters who will be engaging in vote buying and selling.
The warning of the polls official came amid reports of vote buying and vote selling in the different parts of the region, ahead of the October 30 balloting.
In the city, for example, the amount ranges from P50 for those running for village councilor and P100 for those seeking the village's top post.
A council candidate, who asked not to be identified, said that much as he would like not to resort to vote buying he has no choice but to join the 'kalakaran' or system.
"I have to secure a loan just to afford to court the votes of my co-villagers for me to win. Anyway, almost all candidates are also doing the same thing. Also, the voters are also waiting for it," he said.
The councilor wannabe, however, declined to say the amount he has loaned.
The Comelec has launched its Kontra Bigay' campaign to stop the vote buying and vote selling scheme for the barangay and SK polls, even enlisting the help of the Bangko Sentral ng Pilipinas to help them monitor the transfer of money through online or electronic wallets.
Embalsado, however, admitted that they will be finding some difficulties in prosecuting the offenders are it requires not only the candidate themselves but the voters are well.
Vote buying and selling is an election offense where candidates, in particular, are to be disqualified and with a jail time of not more than six years.
JOEY A. GABIETA