TACLOBAN CITY– In the lead-up to the 10th anniversary of Super Typhoon 'Yolanda's wrath in Eastern Visayas, 12 core climate walkers, and supporters from a diverse coalition of climate and human rights advocates began their solidarity walk from Manila to Tacloban for the 'Climate Justice Walk 2023: A People's Journey for Climate Justice' on Sunday(Oct. 8).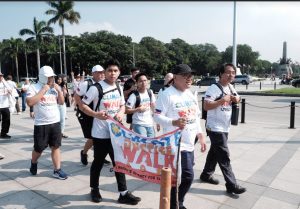 Walking from historic Luneta Park in Manila, the 30-day walk pays tribute to the more than 6,000 lives lost due to Yolanda, considered the most powerful storm of 2013 that devastated 44 provinces, with Tacloban City its ground zero.
This year's Climate Justice Walk will retrace the steps of the first climate walk held in 2014, commencing at Kilometer Zero in Rizal Park, Manila, and concluding in this city.
The 1,000-kilometer journey on foot and on bicycles will culminate on November 7, 2023, on the eve of Yolanda's 10th anniversary, with the participants expected to meet and converge with local storm survivors and impacted communities as they cross the iconic San Juanico Bridge on their way to Tacloban.
Naderev "Yeb" Saño, lead walker and executive director of Greenpeace Southeast Asia said that Yolanda, one of the strongest typhoons ever recorded, has been pushed back into memory.
The importance of conscious and intentional global ambition is all the more urgent as more and more people are reeling from the climate emergency's impacts, he said.
Saño added the statistics for people who have lost loved ones, homes, and livelihoods as a result of climate change are continuously rising.
"With the recent surge in extreme weather events across the globe– from torrential rains that caused massive flooding in Libya, Greece, Hong Kong, and most recently in the US city of New York, to record-breaking wildfires ravaging forests in Canada, Russia, and the US state Hawaii– the urgency of climate action has never been clearer or more dire," Sańo said.
Sańo pointed out that the Climate Justice Walk is supporting the wave of climate litigation cases worldwide, including the Philippine Commission on Human Rights' landmark inquiry that found legal grounds to hold big fossil fuel companies and other corporate entities accountable for their climate-destroying business models that lead to human rights harms.
(LIZBETH ANN A. ABELLA)