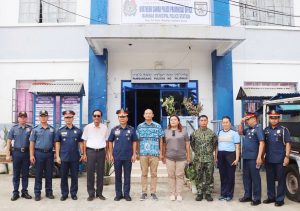 TACLOBAN CITY – Police B/Gen. Vincent Calanoga, the police regional director, expressed his gratitude to the mayors of Palapag and Mapanas, both in Northern Samar, for their continued support towards achieving lasting peace and development.
Calanoga visited the two municipalities last week where he met the mayors of the two local governments.
The police regional director disclosed that he is grateful that both Mapanas Mayor Ronn Michael Tejano and Palapag Mayor Florencio Batula, Jr. of their commitment to the police organization in the area of peace and development efforts.
"The PNP, being a permanent fixture in the community, vows to be always in support with the local government units," Calanoga said.
"Our role is to work together with you, not only on peace and security but also in bringing services to the community so the people would not feel isolated, neglected, and abandoned by the government", the police regional director said during his separate meeting with the two town mayors.
In his talk with Mayor Tejano, the town official underscored their gratitude for the intensive police visibility and community engagement of PNP-Mapanas which led to the increase in the number of New People's Army surrendering to the government authorities.
Calanoga added that mayor also noted an improved perception of the community in the PNP forces, attributing it to the discipline in leadership and the consistent conduct of awareness campaigns on the services of the government.
Meanwhile, in his talk with Mayor Batula, the Palapag official emphasized the importance of their Local Government Support Fund – Support to the Barangay Development Program (LGSF-SBDP) a holistic project that will help them sustain the peace and order in the community.
Calanoga added that the Palapag mayor also emphasized that the construction of classrooms, barangay, and health centers, farm-to-market roads, provision of potable water supply, and addressing agricultural issues will gain more public support, making them less vulnerable to communist front deceptions and propaganda.
(ROEL T. AMAZONA)