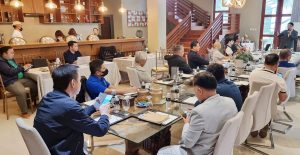 TACLOBAN CITY-The business group in this city has welcomed the report on the country's 7.2 percent growth of its gross domestic product (GDP) for the fourth quarter of last year.
Eugene Tan, president of the Philippine Chamber of Commerce and Industry-Tacloban-Leyte Inc., said that the growth means that the economy of the country is improving which suffered a major setback due to the pandemic caused by the coronavirus disease (COVID-19).
However, the business leader said that the growth, while backed by a scientific study, would become more meaningful if the poorest of the poor could reap its benefits.
"Sometimes, the growth of our economy is not felt in the country that is why we are saying that the growth should be inclusive so it will be felt by every Filipino," Tan said.
For one, the poor are still reeling from the impacts of the high cost of prime commodities reason the reported economic growth has yet to be felt by ordinary Filipinos.
With the high costs, the purchasing power of ordinary wage earners, Tan added, has diminished tremendously that they could barely buy their basic needs like food.
Tan said that for their part, they are trying to help the poor consumers by not rising the costs of their products.
"As much as possible, if there is a price increase, we don't implement it immediately because we know that it will cause some hardships to our consumers," he said.
(JOEY A. GABIETA)