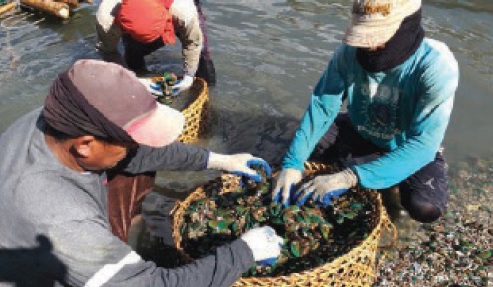 JIABONG, Samar-The Bureau of Fisheries and Aquatic Resources (BFAR) partnered with the local government unit of this town for the regional launching of hazard detection and mitigation for algal blooms in changing marine environment held on Thursday (March 14).
The program, funded by the Department of Science and Technology, is implemented by University of the Philippines Marine Science Institute (UP-MSI) together with the Community Alliance for the Sustainability of our Threatened Seas (Coasts).
The overall goal of the activity is to promote an early warning system that would help address problems related to the occurrence of harmful algal blooms (HABs).
According to BFAR Regional Director Juan Albaladejo, red tide poses threats to the health and safety of shellfish consumers.
He added that paralytic shellfish poisoning or PSP have caused illnesses and several mortality incidents through the years.
During the launching, participants from the villages of Malubago and Maligaya, whose residents are into 'tahong' or green mussels industry, engaged themselves in discussions to better understand their risks from harmful algal blooms.
In the course of the project, participants will undergo training for increased awareness about red tide and develop their capacity for monitoring and response.
They will also engage in active participation in monitoring water quality and red tide.
The same program will be launched in Capiz, Western Visayas, and Bolinao, Panganisan.
These pilot sites, to include Jiabong, were chosen based on their different HAB types and their importance in contributing to seafood production.
Coasts is hopeful to build a network of partners towards improved food safety, livelihood security and ultimately good quality of waters.
(LIZBETH ANN A. ABELLA)