CAMP SEC. RUPERTO K. KANGLEON, PALO,Leyte– B/Gen. Rommel Francisco Marbil, the regional director of the Police Regional Office(PRO) 8 presented his accomplishments during the first-ever 'commander's time' held at the PRO 8 multi-purpose hall, here, on December 2.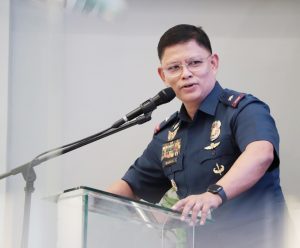 PB/Gen. Marbil took his time to present to the men and women his direction under his watch to include all of his achievements and accomplishments from day one of his leadership, August 15, 2022 until November 30, 2022.
All of which are aligned with the Chief PNP's program thrust, the Peace and Security Framework: Malasakit, Kaayusan, Kapayapaan tungo sa Kaunlaran.
Of his more than three months of leadership, he was able to come up with a memorandum of agreement (MOA) with some government hospitals in the region enabling all police personnel access a free medical check-up and other health services.
He even outsourced for the maintenance of all PNP vehicles. Likewise, Marbil invited legal counsel from other agencies to assist PRO 8 personnel facing legal battles. Said accomplishments fall in "Malasakit" as health, vehicle maintenance and legal aspects of personnel were taken care of.
Under his leadership, lower units received 300 Galil and 350 Emtan Basic Assault Rifle to strengthen the marksmanship skills of the personnel. For a better communication, radios were issued, 197 Base, 705 handheld, 130 mobile radios, 7 repeaters, and 26 manpacks.
Moreover, the construction and repair of the municipal police station of Silvino Lobos, Northern Samar utilizing PRO 8 funds.
It was only in his time that the said station was given attention, making the personnel's lives safer and be able to deliver best service to the public.
Another was the improvement of parking areas inside the camp, making it more organized and orderly.
Also, Marbil also directed the installation of directional signages inside the camp as he too directed the lower units to do the same, taking into consideration the public's welfare, awareness and sense of security.
For his operational accomplishments, 218 illegal drug personalities were arrested from August 15, 2022 to November 30, 2022; 893 were arrested for illegal fishing; 1,565 illegal gamblers were arrested; 218 illegal loggers and 248 were arrested for illegal possession of firearms.
With all these improvements and accomplishments, Marbil looks forward for more.
He proposed for the construction of an 8-storey regional headquarters administrative building; 5-storey regional support unit's building;, construction of a command center and the creation of Task Force Maharlika to guard the main highways from north to south of Eastern Visayas.
Further, he stressed that for a goal to be realized and sustained, a culture of ruthless accountability must be applied at all times by each and every PNP personnel in the region.
"We must adhere to our sworn duties of serving the public with dignity and protecting them at all cost. Let us all be a hero in our own little ways," he said.
(PR with reports LIZBETH ANN A.ABELLA)