Col. David is PRO-8 regional staff chief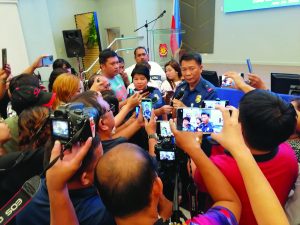 PALO, Leyte– Eastern Visayas top police officer, B/Gen. Vincent Calanoga confirmed that one of the 18 police officers linked to illegal drug activity whose courtesy resignations were accepted by President Ferdinand 'Bongbong' Marcos Jr. is one of his deputies.
He, however, was quick to say that they were all 'shocked' to learn that Col. Michael David, who is the chief of the regional staff, was on the list.
Calanoga was interviewed by the local media on Wednesday night during a 'meet and greet' party at the regional police headquarters, this town.
"This is very surprising. Almost everyone was shocked because we work with Col. David and he is doing well and very professional (with his work)," the police regional director said.
He also described the news as 'very unexpected,' adding that when he worked with David at the National Capital Region Police Office (NCRPO) back in 2016, he never had any information on his being involved in the illegal drug trade.
"Wala akong na observe na unusual or illegal sa kanyang trabaho when we first worked together at the NCRPO in 2016 until May 2017 when we parted ways. Dito na lang kami nagkita ulit," Calanoga May 6 of this year.
He also said that he had a personal conversation with David after the news came out and he too was surprised being tagged.
"At wala siyang maisip pano siya na link dito sa illegal drug trade. (And so far), lahat na nakausap ko dito sa PRO-8, wala silang masabing masama kay Col. David," Calanoga said.
David, who also served as Tacloban city's top police officer, was named among the 18 third-level police officers tagged to be allegedly involved in the illegal drug trade.
Pres. Marcos on Tuesday announced that he accepted the courtesy resignations of these top-ranking police officers who were named based on the investigation conducted by the National Police Commission adhoc advisory group.
Calanoga admitted that David's inclusion on the list affected the police force in the region but assured the public of their continued campaign against illegal drugs in the region.
He also said that pending the final result of the probe against David, he is giving him the 'benefit of the doubt,' adding that he still continues to discharge the functions of his current office.
"He is still with PRO-8. Let's give the good gentleman the benefit of the doubt until we have the result of the investigation that the National Police Commission will conduct," Calanoga said.
He added: "As for Col.David, he is still with us at PRO-8 and we are waiting for instructions or order from the national headquarters."
Calanoga advised the beleaguered David just to 'hang on' and as 'truth would come out.'
David, himself, could not be reached for his comment.
Aside from David, also included in the list was the former police chief of Calbayog City, Samar, Col. Rodolfo Albotra. Jr.
JOEY A. GABIETA/LIZBETH ANN A. ABELLA