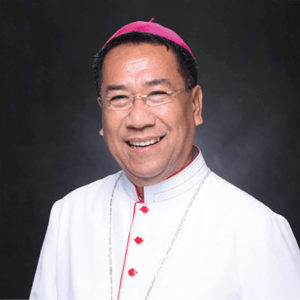 BY: JOEY A. GABIETA
TACLOBAN CITY- The archbishop of Palo in Leyte assured the faithful that the Church would not abandon them during this time of pandemic caused by the coronavirus disease 2019(COVID-19).
Archbishop John Du made his assurance as he earlier directed on the suspension of all public Masses in the archdiocese effective March 20 until he 'revokes' it.
"My dear people of God, the Church is not abandoning her children on these trying moments. We are availing the best means to reach out to you. We continuously seek the mercy and compassion of God and the maternal protection of our Lady. Let these words of the Lord be our source of strength and courage…'I do will it, Be Cured 'I(Lk/V:13)," he said on his pastoral letter he issued on March 18.
"This is a very difficult decision on our part. However, as pastors it is also our solemn moral obligation to abide the advisories of competent authorities in the name of common good and public safety,' the prelate added.
The government, as part of its measure to prevent further spread of COVID-19 in the country, has imposed prohibition on mass gathering and when involved more people, social distance policy.
The prelate reminded the faithful that while there are no public Masses, he has directed all the priests in the archdiocese to say Masses 'without congregation' every day and even 'virtual' Masses through live streaming.
"In times of crisis and calamities leading to physical impossibility we can resort to some other prudent means," Du said.
He also said that baptisms and funerals Masses will not be stopped but those who will attend must be limited to the immediate family members and should at all times, observe the required distance during the entire celebration.
Archbishop Du also asked all the priests to regularly sanitize churches and chapels as another means to stop possible spread of the virus.