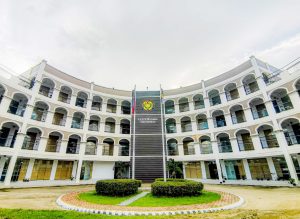 TACLOBAN CITY– The Leyte Normal University (LNU), this city, has defended its action in requiring accreditation of the 'An Lantawan' (The Watchtower), the university's student publication.
"The university has a responsibility in establishing certain guidelines and standards to ensure quality and integrity of our academic and extracurricular programs," the government-run university said in a statement posted on its social media account.
"Part of this process is the accreditation of student organizations, including publications like An Lantawan. This is a standard procedure in many educational institutions even worldwide," it added.
It maintained that requiring An Lantawan to undergo accreditation is not an attempt to curtail the freedom of the speech or of the press, contrary to the claims of those who opposed the move.
"The process is in accordance with established policies so that organizations within the University adhere to ethical and professional standards, and to ensure that they contribute to the overall experience of students," LNU said in a statement released on October 25, 2023.
While the accreditation of the campus publication is still pending, the university assured that it "continues to support the publication of new materials and encourages open expression of ideas."
LNU, recognized as the center of excellence in Teacher Education in the Eastern Visayas, caught itself in the center of a controversy after it allegedly ordered the An Lantawan staff to rename its page and cease the use of its publication name and logo, pending the approval of its accreditation process, on October 22.
"I felt devastated because we've been working for An Lantawan for many years and since we are prohibited to use the logos, we were holding on to the Facebook page name 'An Lantawan,'" said Troy Ortega, 21, a publication staff.
An Lantawan publication is serving an estimated 7,000 enrolled students of the university, which was established in 1921.
Ortega, the managing and opinion editor during the academic year 2022-2023, admitted that for the current school year, their publication has yet to establish its editorial board "because of the accreditation."
"We take initiative, as student journalists and as members of the previous editorial board. If we don't act, who will act for us to work on the university accreditation process?" Ortega asked.
As of November 1, the An Lantawan Facebook page, now renamed as "LNU-Student Publication Office", has been retrieved.
However, the publication's lengthy response to LNU's advisory they posted on October 30 "has been removed by Facebook."
(RONALD O. REYES)