Slated on October 9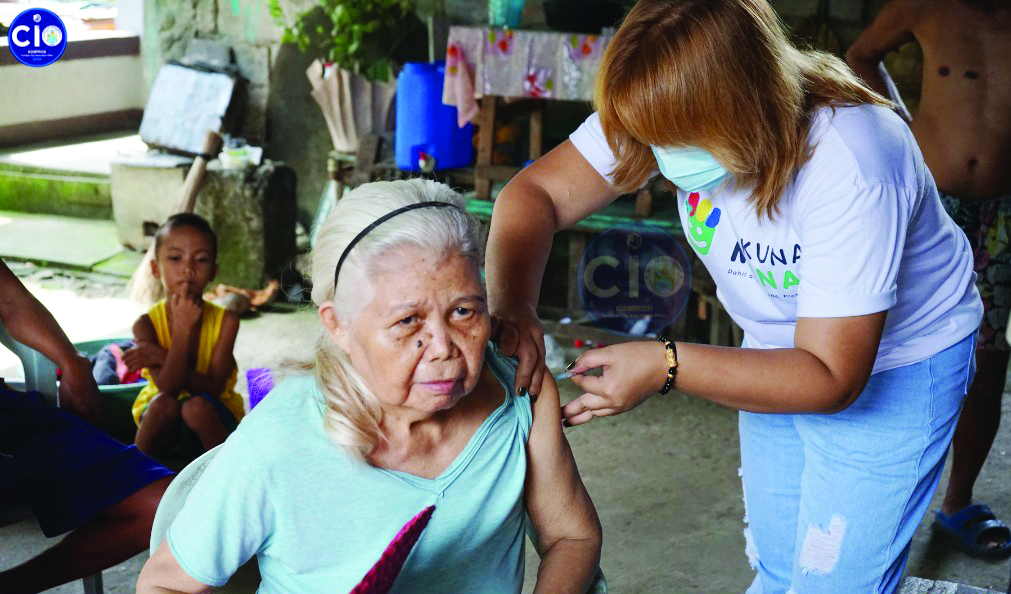 VACCINATION CAMPAIGN. As the country is slowly relaxing its health protocols like making it optional the wearing of face masks, vaccination campaign continues. Here in Tacloban City, health personnel are doing barangay rounds to ensure that those eligible for vaccination will receive the vaccine against COVID-19. The City Health Office admitted that vaccination among senior citizens in Tacloban remain to be low.
(TACLOBAN CITY INFORMATION OFFICE)
ORMOC CITY-All its systems go for the holding of a plebiscite here in this city involving the merging of 28 barangays into just three villages slated next month.
The Commission on Elections (Comelec) has scheduled the holding of the plebiscite on October 8 as contained under Resolution Number 10796 issued on June 22 of this year.
The plebiscite aims to consolidate 28 barangays into just three villages which are all located within the city proper.
At present, Ormoc has 110 barangays.
The affected barangays of the plebiscite, namely, 1, 2, 3, 4, 5, 6, 7, 8, 12, 13, 15, 17, 23 and 27, if merged, will be known as Barangay South while Brgys. 9, 10, 11, 16, 18, 25, and 28 will be known as Brgy. East.
Meantime, the remaining villages of 14, 19, 20, 21, 22, 24, and 26 will be referred as Barangay West.
The current Barangay 29 will be renamed as Barangay North.
For this purpose, the city government has allocated P8 million. In all more than 7,600 people are to be affected by the merging of the 28 barangays.
Comelec Regional Director Jose Nick Mendros said that as part of the plebiscite, their office has conducted a command conference held last Sept.9; canvassing committee has been constituted and security preparations are now being laid out.
Based on the calendar of activities promulgated by the Comelec, the campaign period starts on Sept. 24 until Oct. 6.
City Mayor Lucy Torres Gomez said that they have decided to merge the affected barangays for easy management and except for one barangay (26), all are inhabited with less than 1,000 people.
She said she will lead in the 'yes votes' campaign saying that the move will lead to development to these villages.
"Because if you see the reason, it's obvious yes because it will redound to better services for the people," Gomez said, projecting for a yes victory.
For his part, Rep. Richard Gomez, himself a former mayor of the city, said that most of these affected villages are small that they could not provide needed facilities like health centers and barangay halls.
"They could not even hire their own tanods due to their small population," he said.
Gomez said that it was at first difficult to convince the leaders of these barangays but were prevailed upon when they eventually realized that the move is for the benefit of their respective residents.
The merging of these barangays is by virtue of an ordinance passed by the city council last January 9, 2021.