Amid crowding incident due to J&J vaccination
TACLOBAN CITY – Mayor Alfred Romualdez said that he is open to implement the recommendation made by the Department of Health (DOH) to improve the inoculation process for the coronavirus disease (COVID-19) vaccines.
He, however, was quick to say that several things must be considered first before adapting them.
These includes the number of vaccines provided to the city, and additional vaccination sites and teams.
Currently, Covid-19 inoculation drive of the city is conducted at two Robinsons mall located in Marasbaras and in Abucay.
In the latest inoculation drive of Tacloban using the Johnson and Johnson(J and J) vaccine, several people aired their sentiments on the process of inoculation due to overcrowding outside of the venue.
Due to this problem, some suggested that it should be done in the barangay while the DOH during the city council regular session last week gave several suggestion that the city may adapt to improve the system.
 "We can take that suggestions but obviously it depends on the number of vaccines that comes," Mayor Romualdez said in a press conference held Saturday.
Romualdez added that once the repair of the Tacloban Astrodome is finish they will make it as additional site for vaccination.
"Right now we got two sites, and as you can see like on Monday, most likely mauubos na yung Johnson and Johnson, that is 10 thousand and we do that in three to four days. Now I will make that adjustment accordingly, let say Monday may dumating na 15 thousand then I will ask the help of the Philippine Nurses Association (PNA) and we will look for additional places, then we can do that," Romualdez said.
Romualdez added that they can't just make one place as vaccination sites as they need to consider the some necessities such as the presence of running water, and toilets including if the location is near a pharmacy or drug store.
"We have to look for a place that is not only accessible but is also convenient and if they can practice social distancing," he said.
During the regular session in July 21 at the city council Dr. Ma. Teresa Caidic, DOH-8' chief local support division, shared to the Tacloban City council members some observation they have during the inoculation schedules of the city, noting the crowding that is happening outside the venue like what happened during the schedule for Janssen vaccine inoculation.
"We can consider that as super spreader event if we have crowding," she said to members of the city council.
Caidic said that crowding needs to be address because of possibility that there are asymptomatic individuals who are infected with Covid-19 who are also in the crowd lining–up to get vaccinated particularly now with presence of Alpha and Delta variant in the country which are consider very transmissible, inoculation protocols must always adhere to the minimum health protocols such as physical distancing to limit transmission of the virus.
Caidic said that this crowing can be address by adding more vaccination sites in Tacloban.
She added that they city government may also replicate the vaccination by schedule wherein they are texting the people who will be inoculate in specific time.
"This should be strictly no walk-in, everyone should be registered to avoid crowding, and people will be comfortable and will not wait for longer time," Caidic added.
She also suggested for the city to have partnership or seek help from groups like the Philippine Nurses Association and government agencies like the Bureau of Fire Protection and the Philippine National Police that has medical reserve group to increase the number of vaccination team.
The DOH official also recommended for the city to improve the accessibility of seniors to vaccines by making an specific schedule for them on holiday or during weekends when their children or guardian are not busy at work.
Based on the record presented by Caidic to the city council members, the city has a target of more than 25,000 seniors for inoculation based on the estimate from the Philippine Statistics Authority, of which only more than 7,000 had been inoculated.
"There should also an advocacy to their children, not only to seniors  because what we learned is that usually it is their children who decides if their parents will get vaccinated or not," she added, adding that doing domiciliary visit for vaccination is also an option to reach as many seniors or those with comorbidities.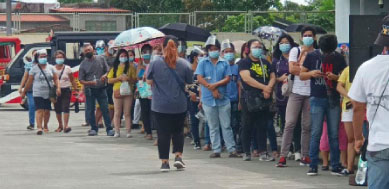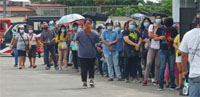 "You are doing well in vaccination, very good in you consumption rate but there are still rooms for improvement for you to obtain the optimum performance," she said.