With Pres. Marcos and VP Duterte expected to grace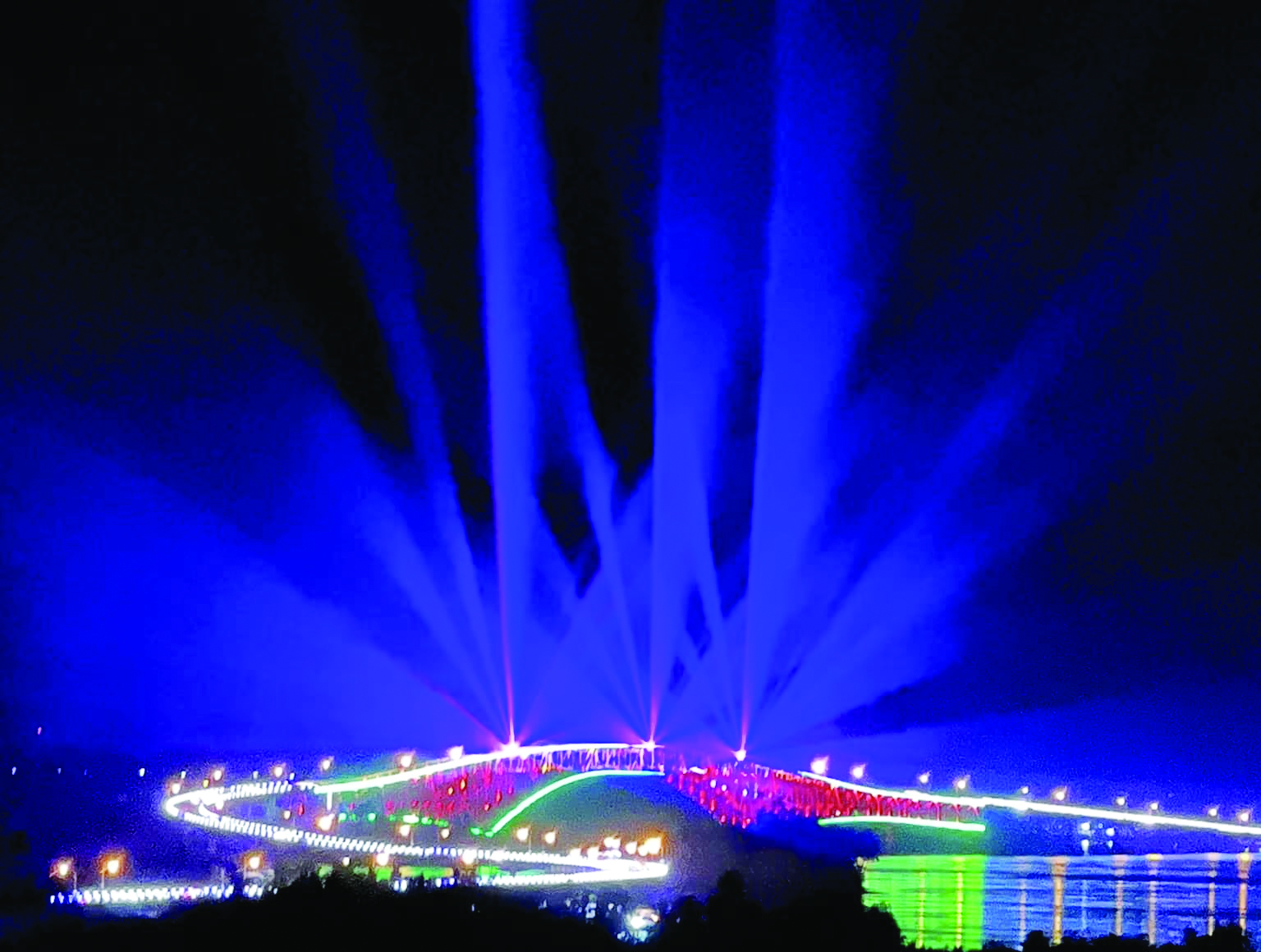 TACLOBAN CITY- The formal switch-on of the aesthetic lighting at the iconic San Juanico Bridge is scheduled on October 19 with both President Ferdinand 'Bongbong' Marcos, Jr. and Vice President Sara Duterte expected to attend.
This was announced by Samar Governor Sharee Ann Tan and Tourism Regional Director Karina Rosa Tiopes on Thursday (Oct. 13) night during a coordination meeting.
The two officials confirmed the attendance of Tourism Secretary Cristina Garcia-Frasco and Tourism Infrastructure and Enterprise Zone Authority (TIEZA) Chief Operating Officer Mark Lapid at the event.
TIEZA set aside P80 million for the aesthetic light and sound project at the San Juanico Bridge.
"Our purpose here is to attract our national figures to visit us – Samar and Leyte – as far as tourism is concerned and of course so that we can encourage more tourists to come and eventually will paved the way for additional livelihood particularly in the province of Samar where we are more focus and prioritizing the people's organizations and community-based tourism," Gov. Tan said.
Tan added that this has long been waited by the province to finally open the aesthetic light show to the public.
The project was supposed to be finished in 2019 but was rescheduled due to rehabilitation work at the bridge.
In 2020, works were suspended for several months due to restriction imposed by the government due to pandemic.
During the official switch-on ceremony, a 21-minute light show will take place with members of the Buraburon Festival of Burauen town will perform at the Leyte side of the San Juanico Bridge while the Manaragat Festival of Catbalogan will also perform at the Samar side of the bridge.
Traffic at San Juanico Bridge will be controlled and no vehicles will be allowed to cross the bridge during the program.
The San Juanico Bridge Aesthetic Lighting Project is a first of its kind in the country.
The colors can be customized depending on the occasion. Last month, purple color was used to light the bridge for about an hour to honor the late Queen Elizabeth II of the United Kingdom.
During the celebration of the Philippine Independence Day, the colors of the country's flag were used to illuminate the bridge and for the light show.
Last August, the Embassy of India also requested to illuminate the bridge with color green as part of their 75th-year founding anniversary.
Although the entire bridge was installed with LED lights, these are installed at the outer part of the bridge to avoid distracting the traffic flow.
The San Juanico Bridge is the longest bridge along the Pan-American Highway that connects Luzon to Mindanao.
Built in August 1969 and completed in 1972, with a span of 2.162 kilometers and connecting Samar and Leyte, the bridge had stood many challenges.
The most recent of which was when Tacloban was hit by Super typhoon 'Yolanda' last November 8, 2013.
The bridge is one of the tourist attractions of the region, particularly attracting day time tourists but with the lighting project, visitors may now also visit the bridge even at night.
The project is expected to usher economic development in the southern part of Samar province, particularly in the towns of Sta. Rita and Basey.
(ROEL T. AMAZONA)