Biliran town was hard-hit with school buildings damaged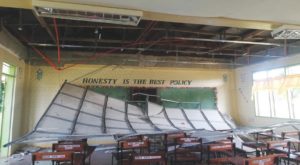 TACLOBAN CITY- Several school buildings sustained damages and classes were suspended after several parts of the region were hit by a 5.7 magnitude quake on Monday morning.
The quake, which lasted for just less than a minute, has damaged several classrooms of the Biliran Science High School (BSHS) in the town of Biliran, province of Biliran.
Cracks were noticed in several classrooms while some ceilings fell down due to the tremor that occurred at 5:19 am with the epicenter traced in Capoocan town, Leyte province.
Voltaire Dagalea, school facilities coordinator of BSHS, said that four buildings consisting of eight classrooms were damaged due to the quake.
He said that these classrooms are being occupied by Grades 8,9,11, and 12 students. The buildings were constructed in 2017.
"According to the BFP personnel who conducted their assessment, we were advised not to occupy these buildings to ensure the safety of our students," Dagalea, in a phone interview, said.
He said these affected students may just hold their daily classes at their computer rooms as well as at their library and stage.
The school, located in Barangay San Roque which is within the town proper, has about 407 students with 35 faculty members.
Biliran Mayor Grace Casil issued an order at around 9 am suspending all classes in the entire town to give way on the assessment of possible damages due to the quake.
Classes from elementary up to secondary were also suspended by the local government unit of Capoocan, the epicenter of the quake.
Rogel Sarigumba, disaster risk reduction management officer, said that the suspension of classes is to give way for the monitoring of their team together with the local engineer in the schools.
"We'll conduct our inspection to all public schools, to include the day care centers if they have sustained damages due to the earthquake," he said in a phone interview.
So far, they have not received any major damages due to the tremor, saying some houses reported to have sustained 'minor cracks' in the aftermath of the tremor.
Classes were also suspended in Carigara and Leyte-Leyte towns to ensure the safety of the students and for school administrators to check of any possible damage due to the quake.
Here in Tacloban City, which felt the tremor at Intensity V, there were no report of any damage due to the early morning quake, James Henry Roca of the City Information Office said.
The quake was also felt in Pastrana town, Leyte at Intensity V.
Based on the monitoring of the Philippine Institute of Volcanology and Seismology (Phivolcs), the quake was also felt in the towns of Palo, and Ormoc City, both in Leyte and Borongan City in Eastern Samar and Naval in Biliran province.
The tremor was also felt in Bago City at Intensity II and Masbate and Roxas cities at Intensity 1.