TACLOBAN CITY – At least 325 police personnel were deployed on Thursday (August 18) to the towns of Mapanas and Palapag, both in Northern Samar as part of the peace and development campaign of the government.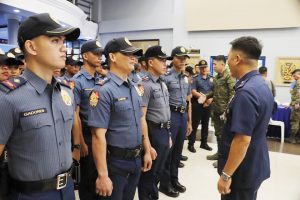 No less than Police Regional Director B/Gen. Vincent Calanoga led the send-off of these police personnel on Thursday together with Tacloban City Mayor Alfred Romualdez, chairman of the Regional Peace and Order Council.
The deployment of these police personnel is part of the implementation of Revitalized-Pulis sa Barangay Program (RPSB).
These policemen are to be deployed in the villages of Naparasan and Quezon, all in Mapanas; and Osmeña, Bagacay, Capacujan, Sangay, and Cabatuan, all in Palapag.
Their deployment in the villages aims to enhance the community engagement, counter the propaganda of the communist rebel, assist the delivery of government services, and secure the ongoing implementation of barangay development projects.
They will also establish an inclusive and sustainable approach in bringing services closer to isolated and disadvantaged areas, and in turn, encourage the communities to totally abandon armed conflict and embrace a duly established democratic government.
"This is a sensitive operation because it involves confidence building between the government and the people. That we wanted to address the problem without people risking and offering their lives," Calanoga said.
"We need to establish a convincing success story and replicate the same to the other barangays. The goal is to have a rhythmic effort in all Samar Island where communities totally abandon armed conflict and communist ideology and embrace a duly-established democratic government", he added.
For his part, RPOC chairman Romualdez stressed to the deployed police personnel to protect the organization's credibility, establish a genuine intention with their dealings with the communities, and learn to properly communicate for them to gain their trust and confidence.
PM/Gen Edgar Allan Okubo, director of PNP Directorate for police community relations, said that the RPSB is to sustain the community support program (CSP) of the Philippine Army in villages that are already declared as cleared from communist influence.
"We will ensure that this will not be recovered by the communist group," he said.
"We will also insulate those areas that are not yet affected by ensuring that government services will reach the communities to make sure the residents will not be victims of communist recruitment," Okubo added.
The troops will stay in the seven villages for a maximum of six months and will be replaced by another team after six months if necessary.
(ROEL T. AMAZONA/ROBER DEJON)