NSSDEO, Brgy. Burabud, Laoang, Northern Samar- The DPWH-Northern Samar Second District Engineering Office (NSSDEO) has aimed to expand the capacity of the Catarman-Laoang Road from the existing two lanes into four lanes.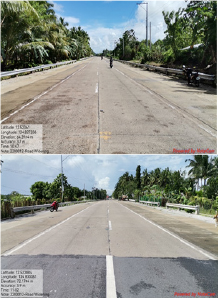 Thus, a road widening project covering Barangay Bantayan, Barangay Balud, and Barangay Dale, all under the town of San Roque was implemented.
It was funded under GAA CY 2022 DPWH Regular Infrastructure which involve the concreting/widening of 2.61 kilometers roadway with 0.28m thickness reblocking/reconstruction of 427 meters existing damaged off-carriageway, construction of drainage and slope protection structures, and with other miscellaneous structures.
With a budget cost of P49.8 million, with a contract ID number 22II0012 was contracted by Solid M Construction and with direct supervision of Miriam O. Engo as Project Engineer.
This newly widened road portion is significant to the road users since it gives them additional lanes to accommodate the increasing volume of vehicles passing the said road section. Thus, public travel becomes more convenient, safer and stress-free. In addition, this will also help improve the lives of the local people through enhanced accessibility of services and products.
(RHODORA R.PUJANTE, PIO STAFF)