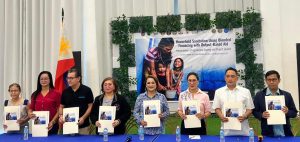 TACLOBAN CITY– The provincial government of Samar, along with the municipal governments of Basey, Jiabong, and Paranas recently signed a memorandum of agreement with microfinance institutions to make climate-resilient toilets affordable to poor families.
This project is being supported by the United Nations Children's Fund (Unicef) Philippines as part of its commitment to help communities adapt to climate change through the use of smart subsidies and affordable financing.
About 150 families from the three towns are to avail of the project.
"We laud the province of Samar and the municipalities of Basey, Jiabong, and Paranas for their commitment to invest in climate-resilient sanitation and we encourage other LGUs to do the same," Unicef Philippines Chief of Water, Sanitation and Hygiene (WASH) Carlos Vasquez said.
"The climate crisis is a child rights crisis, and everyone has a role to play to protect the health and welfare of Filipino children by mitigating the risks posed by climate change", he added.
Based on the record of the Department of Health (DOH) field health services information system in 2022, only 78.54% of households in Samar province have access to basic sanitation facilities.
Having climate-resilient toilets that safely contain fecal matter can prevent contamination of groundwater and the environment, especially during disasters.
This, in turn, can reduce the incidence of water-borne diseases such as diarrhea, cholera and gastroenteritis that can lead to child malnutrition.
The blended financing with output-based aid (BF-OBA) approach is a results-based financing modality wherein beneficiaries take out a loan and are provided with subsidies after completing the installation of climate-resilient toilets.
At least P7 million worth of subsidy will be coming from the provincial government as well as from the municipal government of Basey, Jiabong, and Paranas, and the Unicef.
Governor Samar Sharee Ann Tan said, said that they have conceptualized the program as one way of ensuring the health and safety of the people, especially during times of emergencies.
"Our province is highly vulnerable to experiencing adverse weather conditions, and having climate-resilient sanitation is one of the steps we're taking to mitigate the risks and shocks associated with climate change," she said.
The microlending establishments that are part of the project include the ASA Philippines, LifeBank Philippines and Negros Women for Tomorrow's Foundation, which would finance the total upfront cost for the 150 selected households.
Beneficiary households will later assign the subsidy certificates to the microfinance institutions to pay off 85% of the total cost of building the toilets.
The remaining 15% of the toilet cost will be paid out by the households in 12 monthly installments to the microfinance institutions.
(LIZBETH ANN A. ABELLA)